Case study
Apartment-Tech SaaS Design and Development
R\nd built an end-to-end custom WordPress experience, including custom illustrations in an easy to use content management system.
Visit Site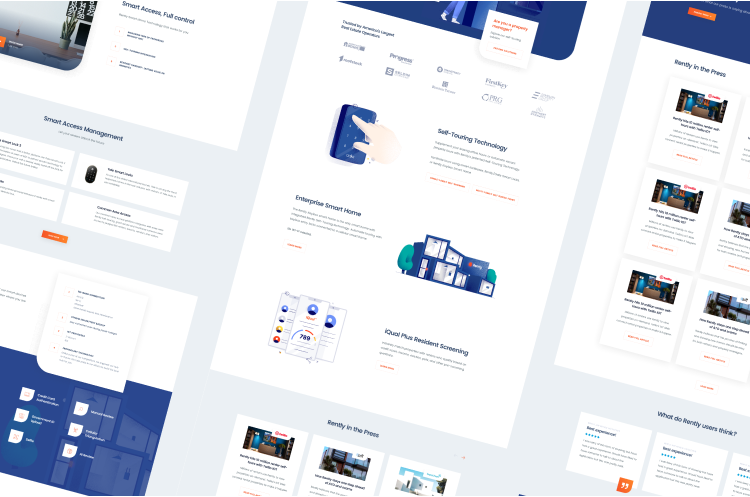 Our Results
Optimized B2B UX Experience
WordPress Design and Development
Bespoke Illustration Design
Advanced Conversion Analytics Configuration
Advanced Salesforce API Integration
Customized Help-Desk Integrations
Better On-Site Engagement
23.41%
Increase in Average Time On Site
B2B Lead Generation
120%
Increase in Lead Conversions
The Challenge
Rently is already the leading self-touring technology in the multi-family and single-family industries. That's exciting! But, while growth and dominance are always good, they come with their own challenges.
As demand grew, it became clear that their digital platform just couldn't keep up. They needed a new robust system that was easy-to-manage and optimized for the user experience.
From our assessment, it became clear that, despite users recognizing the possibilities of this quick path to search for properties, there were critical points that needed to be fixed in order for them to understand Rently's full capabilities.
The Solution
The solution started with an understanding of the numbers. We did an in-depth analysis of their current analytics to understand what was working and what wasn't. Based on this complete understanding, we went to work to develop a strategy that optimized both the consumer and business buyer funnels. We focused on performance improvement through cleaner information architecture and improved help desk search functionality.
Our work positioned Rently to be ready and able to meet the new demands of COVID-19. With its new easy-to-understand product and descriptive information architecture, they were able to fulfill the needs of businesses and consumers alike by giving them new opportunities to self-tour and make sales, even in a world of quarantines and social distancing.
Illustration Design
Staying true to the branded colors and spirit, our teams collaborated to design custom illustrations that were both figurative and imaginative. Narrowing down the emotional appeal, we soon realized that clarity was key. As a result, across each page and product line, our teams created a suite of visual icons and illustrations, with design partners, that seamlessly represent the Rently brand and voice.
Colours
Eccentric blue

#214079

Electric orange

#f65729

Gloomy cloud

#33496a

Hazy sky

#ebf0f4
Website
Using clear branding guidelines, we introduced consistent design language throughout the website. We redesigned the homepage and product pages with a focus on conviction and conversion and made sure no detail was overlooked. All pages were optimized with the user in mind, so that they can quickly find and understand everything they're looking for and know exactly what they have to do.