Case study
Interactive Display Advertising Website Development
Migrating and optimizing an entire platform to a user-friendly CMS, with lightning-fast go-to-market campaigns.
See the Difference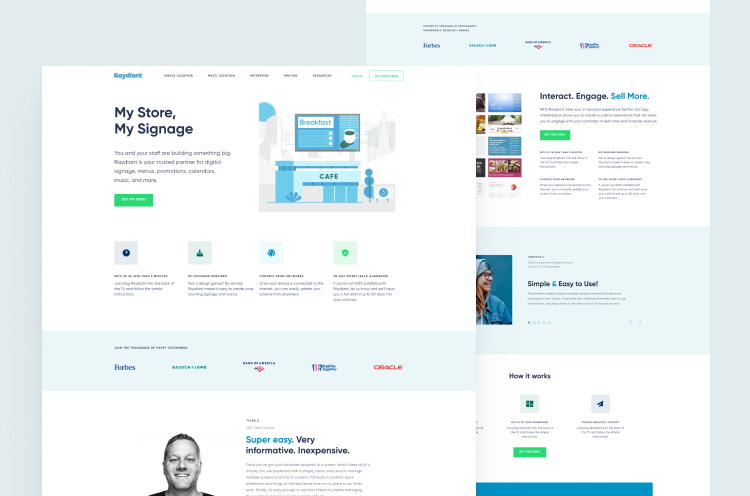 By the numbers
Fully Migrated WordPress Website
Conversion Optimized Landing Page Design
UX Research, Ideation, and Prototyping
Managed WordPress Website Support
Custom Pricing Page Strategy
Better Teamwork
2x
Improvement in product delivery.
Real Engagement
10.42%
Increase in time on site.
The Challenge
Raydiant's website was stuck in legacy code that made it painfully difficult to edit and manage. They needed a partner to migrate their entire platform into an easy-to-use custom WordPress website management platform. While we were migrating their platform, they felt it was also time to optimize their pricing page. Raydiant needed a long-term partner with a team that could support the iterative optimization of their website.
The Strategy
We started development to quickly re-engineer their content management system. Our website development and design approach consist of building platforms that are easy to manage, easy to develop, and without vendor lock-in. Now, Raydiant relies on our team to develop new facets of its website on a weekly and monthly basis.
The Results
Migrating a site like this can be delicate. While the old coding and design made it hard to deal with and manage, it also had a long successful history for them. We knew we couldn't just come in and start from scratch with our own ideas. This had to be a team project.
We made sure that we were in close contact with the client and that we were available to them whenever they needed us or wanted to give us input. This made sure that they didn't lose anything that had been working for them in the past but was also able to update their site, make it easier to manage, and draw in new visitors to their site. When it came to optimizing their pricing page, we put in the time to do exhaustive market and consumer research, using a best-in-class strategy to help convert sales. All of this sounds time-consuming, and it was - but we made sure that we stayed on schedule and delivered our work with fast turnarounds to get their new site up and running as quickly as possible.
And it all paid off. Through our targeted strategy, we were able to increase time on the homepage by 31.81% and overall time on site 10.42%, while decreasing the bounce rate 3.57%. And the new easy-to-use site made it possible for them to increase their speed-to-market by 2.5 times by streamlining their backend processes.