Case study
Global SAP Solutions Provider
Website Development
Numeric Tech Tech partnered with R\nd to design and develop an end-to-end custom WordPress experience.
See the difference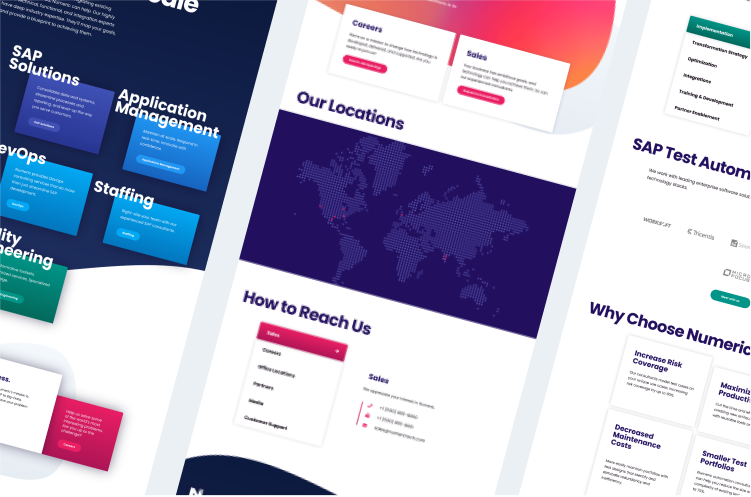 Our Results
Optimized B2B UX Experience
WordPress Design and Development
Custom Content Production
Advanced Conversion Analytics Configuration
Search Engine Optimization
Better On-Site Engagement
40.25%
Increase in PageViews
The Challenge
Numeric Technologies is a global SAP company trusted by the world's largest brands. They didn't just need a website, they needed a partner to could not only design a branded user interface but also create a concise and compelling voice. They needed market research, content production, and a professional partner who could put it all together in a full-service package.
The Solution
The R/nd team started by researching the market and competition. We reviewed the top 20 most popular SAP consulting brands and discovered a number of design features and functionalities that we knew would help to position Numeric as an industry leader.
We created over a dozen pages of custom branded content based on information architecture. All of our content was designed with two main goals in mind - brand storytelling and search engine optimization.
We took our time and developed multiple rounds of design iteration to create a customer component-based custom WordPress user experience that was designed to be easy to manage and lightning-fast. This design, along with advanced conversion analytics configuration, led to a 40.25% increase in page views.
Website
Numeric didn't just want a redesign, they wanted a partner who could bring a unique creative vision to the project. Our design team didn't just bring research, analytics, and tiring statistics to the table. We brought bold and dynamic creative designs. We created a site with big statements and white spaces that draw users in and help set them apart.